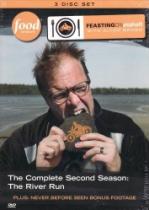 Wow, that's a long title for a DVD, isn't it?
I was a really big fan of the original FoA when it aired. It was Alton Brown taking us across the country looking at the evolution of food on the interstate. Of course, Alton was also far more of a dick to people he encountered than I expected, which is unusual because he's just so damn likeable in Good Eats. I eventually watched the second season with heather and Vlad when we lived with them, but we both agreed it was missing something compared to his usual work. I did eventually buy the cookbook though because there was some yummy food in there.
A few weeks ago, Food Network's website offered a special deal: Get both the River Run season and the River Run cookbook for $14.95. Well, as Heather and Vlad accidentally ended up with my cookbook in the moving process and this set is usually about thirty dollars, I decided to hunker down and buy it. Besides, maybe it would have aged better upon a second viewing. After all, the cookbook was quite good.
Well, the series was a little bit better than I remembered, but it still wasn't as good as the original. Out of the six episodes, three deal with the south and the other three deal with the midwest. Now, not to disparage the Wisconsinites and Minnesotans that read this, but the Midwest episodes flat out suck. This is because Alton is more trying to find the worst of the worst cooking in these areas and makes fun of things like Lutefisk and Russian beet salad and the like. Now, I'm not a fan of these foods either, but the dick level is pretty high up in this season and he's very condesending to a lot of these people, some of which are first generation immigrants and he's mocking their cultural hertiage. Far be it from me to disparage a person for making fun of Minnesota, but at least when I do it I do over the top generalizations rather than specific ethnic remarks.
Besides these issues with Alton (that really only crop up in this series. I'm not sure if he was suffering from burnout or what, but this is totally outside his usual personality), I really liked seeing all these old time mom and pop eating places that have survived for a while. It's great to see these places that are ignored by the majority of Americans and their love for chain dining to proudly promote their classic recipes that have been handed down for generations. This is what eating out should be about.
I'll keep this, but it really is on the cusp. However, it stays if only because the set is hard to find and I got it during a crazy deal.
Is It Worth Keeping? Barely
Rating: 5.5/10