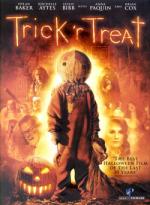 I have to say, I first saw this using Netflix, but I ended up loving the movie so much, I used part of an Amazon gift certificate to buy this film. It was that fun.
I should point out that even though Trick r Treat is a horror anthology film, it is neither scary nor gory. Instad it's simply very dark. Thre is a lot of death and even some supernatural elements. However, it really should be PG-13 rather than R, but the censors have a problem with children being hacked up, it appears.
The movie entails five short stories that are non linear and yet intertwined. You also can see Brian Singer's handiwork as both brian Cox and Anna Paquin have starring roles here. You have the story of a principal, the story of undead cannibal retard children, the story of a man who loves hallowe'en and his wife who hates it, the story of a young girl trying to find that special someone, and finally you have the story of an old man and an odd little boy named Sam Hain. This last story is my least favourite of the five, but it's still awesome if only for a reference to "No beer and no TV makes Homer go something something."
It's a damn shame this didn't see a cinematic release, as it would have done killer at the box office from word of mouth alone. Still, finally having it on DVD is better than never having it at all and it's a must see for all horror fans. This is certainly one to watch at your yearly Hallowe'en get-together.
Is it Worth Keeping? YES
Rating: 8/10