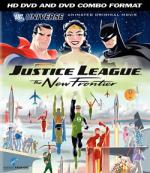 Man, it's been a while since I removed a HD DVD, eh? Eh, I felt like watching this while writing a review. It's short and fun and I got to remind myself how amazing animation looks on HD DVD.
This 75 minute movie at the dawn of the Silver Age of comic, right after the Korean War. It's based off of Darwyn Cook's graphic novel, which is turn was one big metaphor for why socialism and/or communism is evil. Okay then. All your classic super heroes are here, although the main character is Hal Jordan followed closely by Barry Allen and Martian Manhunter. Wonder Woman, Superman and Batman all have supporting roles, but they are by no means main characters. The film is what you would expect abou the 1950's. A lot of anti-communism, fear of nuclear war, fear of anything that isn't white and Protestant. Fear fear fear. Super heroes are regarded as creepy vigilantes and the Justice Society has had to disband for refusing to reveal their identities to the House's Unamerican Activities crew.
At the same time a creature with amazing cosmic and mental powers called The Center (because it lives in the center of the earth) awakens and decided humanity needs to be wiped out before they nuke the whole planet and kill all life on Earth. Yet, it's considered the bad guy even though it is rather in the right. So all the super heros get together and kill it, thuis proving its fears correct.
It's a fun film as long as you just look at it as entertaining crap. The entire premise and concept is a bit pants though. The animation style looks just like the graphic novel which is a lot of fun and a big departure from the usual DCAU. It's not the best film they've done, but it's worth keeping for the documentaries and overall fun nature of the film.
Is It Worth Keeping?Yep
Rating: 6/10