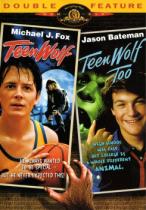 Wow, here's a movie that hasn't aged well at all. Remember being like eight and thinking how cool this was and how much fun it would be to be a werewolf until you then watched a Hammer or Universal film and realized that Michael J Fox had lied to you?
Anyway, this is the story of an ordinary teenager who just doesn't excel at anything. He wants the hottest babe, he wants to be the basketball star, he want to be something other than forgettable. Then one day he turns into a werewolf and instead of people running in fear from him or shipping him off to a government lab to be disected for turning into a lycanthrope in public, he instead becomes super popular and gets everything he every wanted…or at least he gets everything he thought he wanted.
I'm surprised this is PG considering there is sex and nudity in this, but PG's fallen a long way from when we were kids, or evn in the 60's and 70's when gorey Hammer Horror was only PG.
The acting isn't very good, the plot is ludicrous, nothing ever became of the cast in this film save for Fox who was already a star, and the sequel was the same exact script, with a lot of the same dialogue save for boxing replaced basketball. Yeah, this is a film that was cool when you were in single digits, but any time past that you can see it for what a horrible mess it really is.
Now it makes me wonder how the Teen Wolf cartoon has aged…
Is It Worth Keeping? no
Rating: 4/10