Deprecated
: preg_replace(): The /e modifier is deprecated, use preg_replace_callback instead in
/nfs/c06/h06/mnt/97824/domains/alexanderlucard.com/html/wordpress/wp-includes/functions-formatting.php
on line
83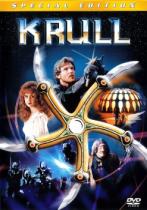 I haven't seen this movie since I was a kid. I remember thinking it was neat but I didn't really get into fantasy until 5th or 6th grade with AD&D's Ravenloft.
Although this movie is cheesy as only British films can be, it's well acted and has a pretty neat plot combined sword and sorcery with sci-fi elements. Basically it's a magic/fantasy world and what happens when a sci-fi/alien technologically superior race invades a planet. The bad guys are led by "The Beast" who in nifty fashion is never fully shown at any point in the film, even in the big climax. It also appears it lives in Stonehenge.
The movie involves the Crown Prince trying to reclaim his bride from the beast. In order to do so he makes new allies that range from a stupid wizard to a cyclops and a quest to find the ultimate weapon - the glaive. The glaive is what most people remember first about this movie and you can't deny it's a pretty fucking sweet weapon. There's also a crazy hermit who lives in a giant spider web, a doppleganger that kills blind old men, and a lot of other neat monsters.
Although I enjoyed this movie and it is definitely a keeper, I have to say that I actually prefer the Krull board game and the old Atari 2600 video game more. The video game is one of the best licensed titles ever and it's certainly worth tracking down to play. It's also worth hooking up my Atari just to play it one more time.
Fun movie, and it's actually gotten better with age even if it's somewhat hokey.
Is It Worth Keeping? Yes
Rating: 6.5/10