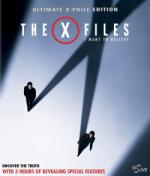 Wow, this was just fucking awful. This was one fo the worst things ever written with the words "X-FIles" attached to it, and there is an amazing amount of X-Files crap out there. This film should never have been made and it just cemented in my mind that Chris Carter is a god awful fucking writer. He has good ideas, but he should never be allowed to flesh them out or script them, Leave that to other more talented people.
Man, what a mess of a film. The plot is so convoluted, Guin watched it twice and she still found it hard to follow. it's a hodge podge of stem cell research, transsexual Frankenstein flesh golem making, homosexual russian organ stealing, siamese twin dog experimentation, pedophilliac priests with lung cancer and psychic abilities, random people dying, the evils of religion when intermixed with religion, little boys dying of incurable diseases and rehashing of the two worst bits of the X-Files series: that being the final episode and the fucking stupidity of Scully's baby. Oh we can't forget Mulder is still obsessed with his sister's disapearance even though he fucking solved it and he knows she is at peace and DEAD.
I don't know what they paid David Ducovony and Gillian Anderson to make this, but god knows they should be ashamed to have done this film. It's fucking brutal from beginning to end and we should all pretend it doesn't exist. I Want To Believe is the final nail in the X-Files coffin and let's all hope it is never revived again. At least Mitch Pleggi shows up briefly for no reason and adds nothing to film, but is still there. Bad, bad film.
Is It Worth Keeping? No, not even the free digital copy that came with this
Rating: 2/10