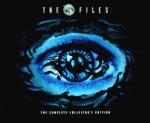 And so it ends. I have now watched all of The X-Files It also ended really badly. It's funny to say this but I learned the following about the series:
1) Chris Carter episodes suck, which is funny, because it is his show
2) The Series is better funny than serious
3) The series is almost fucking awful when it sticks to the alien invasion conspiracy crap
4) If Mulder and Scully hadn't been in Season 8 and 9 at all and it was just Dogget and Reyes, it would have been MUCH better. I actually liked these two and think the series could have survived had the writers been willing to let these two stand on their own two feet with a new dynamic. Instead almost every episode was Scully saving the day and people saying "What would Mulder do? Mulder is Christ. All hail Mulder."
5) Doggett and Skinner are my favourite characters throughout the series. Funny that.
This season was pretty bad. Just awful writing across the board. Doggett and Reyes never got a chance to shine. They gave us the stupid ending to a series ever and we see how the whole Mayan calendar = END OF THE WORLD IN 2012 bullshit started. Thanks Chris Carter, you stupid bastard. The X-files went out with a whisper instead of a bang.
Good Episodes:
John Doe: Cliche memory loss episode saved only by Jason Patrick's acting
Audrey Pauley: Agent Reyes is in a coma with a crazy killer doctor on the loose
Improbable: Is Burt Reynolds God? I think that's what this episode was saying
Sunshine Days; Not a good episode but it has Bud Bundy, the Brady Bunch and it's Ben Linus from lost with phenominal reality changing powers! You have no idea how often I expected the smoke monster or some LOST reference.
Note none of these are GOOD per say. There's just good compared to the rest of the season
WORST Episodes
ANYTHING with Scully's baby. Shut the fuck up already. Stupidest thing they ever introduced in X-files save for Dana Scully being a fucking Highlander.
4-D: Alternate Universe John Doggett
Jump The Shark: Chris Carter's typical immature tantrum
The truth: Arguably the worst episode in the entire series
God, what a way to go. The last season is the worst season. isn't that how it always is?
Is It Worth Keeping? only as part of a box set
Rating: 3/10