Deprecated
: preg_replace(): The /e modifier is deprecated, use preg_replace_callback instead in
/nfs/c06/h06/mnt/97824/domains/alexanderlucard.com/html/wordpress/wp-includes/functions-formatting.php
on line
83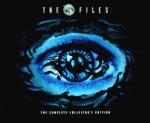 You know what? I'm sure I'm going to take a lot of heat for this but I liked Agent Doggett. In fact, I think he's my favourite character in the series. I really wish they hadn't brought Mulder back partways through as his return (and in such a stupid fashion at that) really brought the quality of the series down. The episodes of just Robert Patrick or Patrick and Gillian Anderson were by far the best of the season and I honestly think they should have just jettisoned both Scully and Mulder and let Reyes and Dogget have a season or three by themselves. If that had happened, the X-Files probably would have continued, but with out the horrible stupid alien-human hybrid colonization conspiracy crap that eventually bogged down the Mully-Sculler storyline.
Best Episodes:
Patience - Scully and Doggett Vs. a revenge driven werebat.
Redrum - A DA is going backwards in time each day instead of forward and it is somehow tied to the murder of his wife, which he has been accused of.
The Gift - A Native American man that eats disease is kept and tortured by a town in an attempt to keep all their critical illnesses at bay
Madusa - tiny jellyfish FTW!
Worst Episodes -
Deadalive - Mulder comes back from the dead after being dead for three months yet doesn't become an evil alient monster zombie like everyone else this happened to. Ugh.
Vienen - Mr. Friendly from Lost is the leader of the black oil virus aliens and can turn into living radiation. Does Ben know?
Empedocles - They turned Doggett's dead kid into an X-file. Oy.
Overall I was happy to see a lot of the alien crap finished up. We saw the end of the Eddie Fiori bounty hunter, the end of Krychek, and this was a huge improvement over Season 7. Still, a lot of potential was lost by both the writers and fans being unwilling or unable to give Reyes and Doggett a chance and it's a damn shame at that. I really enjoyed both characters and think that due to the lack of eight years of convoluted continuity, they could have been the X-Files for a whole other ner generation of viewers.
Is It Worth Keeping? Yes
Rating: 6.5/10