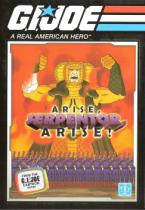 I picked this up off of Ebay for five bucks. It's a compilation for the Serpentor mini-series that you could only buy with the a re-released toy playset. As I didn't want to pay 30-50 dollars for the toys and just wanted the DVD, Ebay was more than willing to help me with a cheap purchase here.
This mini-series is basically here for three things:
1) Introducing new toys
2) Making Serpentor the new leader of Cobra
3) Shoehorning professional wrestler Sgt. Slaughter into Contunity as the greatest warrior and military mind of the 20th century…even though he's only a Sgt. and a drill instructor.
It's a cute mini series and one of the better ones, even if the idea of Serpentor was stupid and they thankfully jetissoned him after two years. There are some neat things we learn in this mini series such as the G.I. Joe chain of command being Hawk, Duke, Flint, Beach-head and then Sarge. This would change to Hawk, Slaughter, Flint Beachead with the DiC series. It also lets Scrap-Iron get some attention for once and starts to develop the Wet-Suit/Leatherhead love-hate relationship.
The mini-series revolves around Cobra getting sick of losing all the time (Which is different from the comic where they won more often than not) and Dr. Mindbender deciding to create a new leader made up of the genetic material of history's greatest bastards. Considering this would mean he is made of multiple people, including Sgt. Slaughter in cartoon canon (Storm Shadow in the comic) it's no wonder he was a total nutjob that was unable to procure a single victory. No wonder they went back to everyone's favorite used car salesman and pyramid scheme mastermind turned terrorist.
I'm glad to have this as it won't be released by Shout! anytime soon outside the giant overpriced collector's set. If I ever decide to dump it, I know a lot of people that'll take it off my hands.