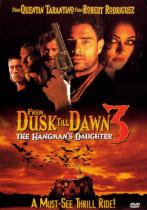 I'll just put it out there. This was one of the worst horror movies I have ever seen in my life. not only was it moving at a snail's pace, but it was extremely boring, badly written, horribly acted and what the hell was up with the vampires in this movie having tentacles and other squick aspects? This makes no sense. This was american Shutter and One Missed Call bad and everyone involved in this movie is damned to hell for having participated in this sin against cinema itself.
Okay, here's the horrible plot: Evil bad guy seduces the daughter of the hangman. As expected when he's about to be put in the noose she saves him with Daddy Dearest in hot pursuit. The two end up going to a seedy bar/hostel in the middle of nowhere where we learn she is not actually human but the daughter of some ancient vampire and her real name is Satanico. yes, I can not make this shit up.
At the same time a group of idiots in a stagecoach are running around and they just happen to get into trouble that leads them to the bar as well. The bar is of course actually a deathtrap run by vampires and most every human dies horribly save for two.
I realize my description of the film makes it seem generic at best but nowhere near the hell that made gouging out my own eyes and stuffing them into my pee hole so people would remark on the blind guy with four testicles but it really was. I can not describe how badly acted this thing was or how the movie decided vampires are were-octopi and god knows what else. I can't honestly single of a single kind word to say about this film except that after watching it, it went immediately onto swapadvd.com and some poor soul picked up. Good for me, bad for them. I think this might actually be the worst film I've seen this year.
is It Worth keeping? FUCK, NO.
Rating: 1/10