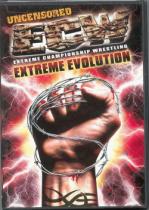 THis is a collection of seven ECW matches from before Vinnie Mac purchased it. These matches ranged from 1996 to 1999. This is, I believe, the first DVD release by ECW.
1. Rob Van Dam Vs. Jerry Lynn 05/16/1999 - Standard ECW TV title match. Lynn and Van Dam had good chemistry but the matches were never as GREAT as Heymen wanted you to think. Fun little match, but nothing really amazing. 1/1
2. Mike Awesome Vs. Masato Tanaka 11/7/1999 - Mike Awesome World Title defense. There's no such thing as a bad match between these two. Garbage wrestling at its finest. Just spot fests and crazy OTT violence from beginning to end. 2/2
3. The Sandman/Raven - 12/7/1996 This is the barbed wire match where Raven beat Sandman for the ECW title. Look, I like both men, and thought the angles they had were outstanding, but the matches? no. I don't really think either are that good in the ring. 2/3
4. The Dudleys Vs. Balls Mahoney and Spike Dudley 08/14/1999. Ew. Four men that can't wrestle. At least Balls is amusing. Definite pass. I will never understand how the Dudleys got over besides their rampart mysogony. 2/4
5. The Eliminators Vs. Terry Gordy and Steve Williams 10.26.1996. Wow, two great teams, four great wrestlers, one awful fucking match. This was near the end of Terry's drug addled brain damaged life and it really shows. A lot of blown spots, bad wrestling and it was sad to say, quite boring. This was worth watching as it is the only match these two teams ever had, but was it good? Fuck no. 2/5
6. Sabu/Taz - Barely Legal 04.13.1997. This is arugably the biggest match ECW ever had. It was the headliner of their first PPV and was 16 months in the making. It hasn't aged well as the hype behind it is long since gone, but it's still a fun match. Sabu should have been the one to go over at the time, but in retrospect it all worked out for the best. 3/6.
7. Tommy Dreamer and Beulah McGillicutty Vs. Shane Douglas and Francine. Ugh. Shane Douglas is boring as shit in the ring and on the mike. When Tommy Dreamer is your best natural athelete in the ring, you know you're in trouble, and this is coming from someone who fucking loves Tommy Dreamer. 3/7
This one isn't a keeper, but it is long out of print and pretty hard to find these days. I'll pass it on to someone who can appreciate it more than I.
Is It Worth Keeping? No.
Rating: 4.5