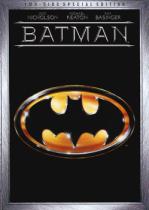 You know, after watching this, I actually prefer this to either Batman Begins or The Dark Knight. Sure Keaton's Bruce Wayne is a bit darker and more psychotic than in the comics, but he does a great Batman. Much better than Christian Bale who does an awful Batman but a great Bruce Wayne. If only they could have combined the two.
Nicholson is awesome as Jack Napier/The Joker, mainly because he looks and acts like the Joker from the comics and was clearly the inspiration for Mark Hamill's Joker in B:TAS. Unlike Ledger who is just playing a psychopath that is in no way shape or form related to the actual Joker character save the name, Nicholson's is a direct re-creation of Englehart and Denny O'Neils runs in the comic and you actually feel like you're watching the character come to life. That's not to say Ledger and Nolan's intepretation isn't an interesting and good one - just that this is more faithful to the source material, for good and ill.
I think what we all know what this movie is about. I mean who HASN'T seen it in the twenty years (nearly to the day) since it came out? BRUCE WAYNE'S PARENTS ARE DEAD! Now he's Batman. Oh shit, he accidentally dumps this guy in chemicals. Now this guy is crazy and looks like a clown and kills more people than usual. Batman and Joker right it out. Good guys win and get laid by hot journalists. The end.
Obviously there is more to it than that. Burton was CLEARLY influenced by Miller's The Dark Kinght Returns and we see that with both character designs and the general layout of Gotham City. We also get a nice mix of comedy and violence and some excellent acting from all of the people involved. Basinger, Keaton and Nicholson could have easily phoned it in and still made money off this film because hey, it's freakin' Batman! But they didn't. They took the roles seriously and the end result was a movie that was universally applauded and was pretty much the standard bearer for this genre of films for 13 years until the first Spider-Man. Unlike Marvel's big film though, this has aged well where Spidey hasn't. It'll be interesting to see where we are in another ten years and whether this or TDK remains the best comic book film for your buck. Personally my money's on the superior acting job of the 1989 Batman combined with the fact it feels like a comic book come to life.
Is it Worth Keeping? Yes.
Rating: 8/10