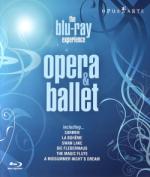 This was a seven dollar Blu-Ray sample I got off Amazon.com (I know. I actually PAID for a DVD for once!) Consider the opera Blu-ray discs from the BBC and Opus Arte are 25 dollars a pop, this was an awesome find. I get a selection from each of their DVD's and I can decide what, if any, I want to add to my collection next. I've already cover The Magic Fluter that they put out, and although this is only fifty minutes long, it's still an amazing price for a Blu-Ray diss - ESPECIALLY for an Opera or ballet disc.
There are thirteen different pieces on here that come from
Il trovatore
Swan Lake
Die Zauberflote (I already own this)
La Boheme
Carmen
A Midsummer Night's Dream (Mendelssohn's ballet)
Gianni Schicchi
Die Fledermaus
Zoroastre
La Cenerentola
Norma
Jewels
Cecilia & Bryne
After watching this I'm probably going to get Swan Lake, Midsummer's and Die Fledermaus, even if it does seem a bit elitist to bad my collection with opera and ballet. What can I say? I enjoy both, even if it's not cool or mainstream. Both are beautiful forms of art that everyone should see at least once in their lives. For seven dollars, this is a blu-ray purchase ANYONE with a blu-ray player really needs to get. It's supporting the arts and high definition records of some of the best performances of these pieces EVER.