Deprecated
: preg_replace(): The /e modifier is deprecated, use preg_replace_callback instead in
/nfs/c06/h04/mnt/97824/domains/alexanderlucard.com/html/wordpress/wp-includes/functions-formatting.php
on line
83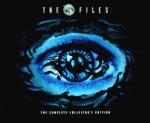 Hooray! Only six more seasons and two movies to go!
You know the deal: It's Mulder and Scully taking on all sorts of paranormal things and an evil shadow government. This season brings in a lot of the recurring "mythologies" that the show would be known for, including the Black Oil virus, people getting cancer, and alien colonization. Eddie Fiori from KIndred: The Embraced also shows up a few times as the evil alien bounty hunter.
The Best Episodes from this season:
* Jose Chung's "From Outer Space." I always find the pure comedy X-Files to be some of the best episodes and this was no exception. very funny.
* War of the Corophages. Alien robot cockroaches. Awesome
* Syzygy. Valley girl witches!
*Clyde Buckman's Final Repose. A great episode about prognostication.
*Quagmire. Lock Ness monster wanna-be
The Worst Episodes:
*Avatar. Skinner is stalker by a succubus. The whole episode never really pulls itself together or goes anywhere coherent.
* 2Shy. Freakie mutant that needs to eat human fat to survive.
* Revelations. Here Scully is the believer and Mulder is the skeptic. My problem with this episode is that it gets a lot of basic tenants about stigmata wrong, which ruined it for me.
One of the stupidest parts of the season came in "D.P.O." where a lot of the episode takes plac ein an arcade. This kid is playing Virtua Fighter 2, but the music is clearly from the Green Hill Zone from the very first Sonic the Hedgehog. Yes, I noticed that immediately. I am a dork. Also, they had a rare four player Spider-Man beat 'em up in that episode. SWEET!
Overall, I really enjoyed this season, moreso than Season Two. it was a lot of fun and it's neat seeing this show in full for the first time. Here's hope it keeps getting better.
Is It Worth Keeping? Yes
Rating: 7/10