Deprecated
: preg_replace(): The /e modifier is deprecated, use preg_replace_callback instead in
/nfs/c06/h04/mnt/97824/domains/alexanderlucard.com/html/wordpress/wp-includes/functions-formatting.php
on line
83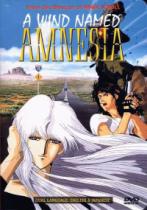 Wow, going back to 1993 and Central Park media. I've always been interested in seeing this, but it's a slightly hard to find DVD. Imagine my surprise when it ended up on Swapadvd.com! I was happy to find it, especially as I love all things Hideyuki Kikuchi. I've heard this particular anime is one that people either really love or really hate. I'm happy to say that after viewing it for the first time, I'm easily in the "loves it" column.
It's important to point out that this film is not about lots of things dying in horrible ways ala Vampire Hunter D There is some death, a tiny bit of nudity at the end and a little violence, but this movie is all about the contemplation of what it means to be human. Are we inhereintly good or evil? Savage or kind? What is humanity at its base essence?
One day a wind sweeps across the land. It takes the memory of all human being. How to use tools. How to speak. Who you were. Everything. Every human on the planet is reduced to a blank slate with only instinct left.
Two years later there is a young man named Waturu is driving a jeep around a city while an old mech on auto-pilot slaughters a collection of humans scavening for food. Waturu runs into a woman named Sophia and both are shocked that the other can talk and have memories. Waturu was a victim of the wind but he was slowly educated by a young man named Johnny. Johnny had a computer in his head that retained all his memories for him. He was a government experiment. Johnny helps re-educate Waturu and then after Johnny dies, Waturu fulfills his mission of driving around the world trying to see what is left of humanity. Sophia has a similair goal, but for very different reasons. Together the two set out from Montana to New York City to see the world, and to see is Waturu can help rebuild society, restore anyone's memories, or just get someone who wants to learn how the world used to be.
A Wind Named Amnesia is a compelling, beautiful story about humanity. I was shocked how drawn to this film I was. I loved all the characters and seeing the world fresh through their eyes. Eventually we do learn what caused the loss of memory, but I have to admit I wished they hadn't told us. I would have preferred it to have just happened without rhyme or reason. It's a very dark movie, yet it's also uplifting in how it speaks of the human spirit and how the best of us can overcome anything. At the same time it does show that the vast majority of humans are sefl-centered monsters at best.
This is one of those anime films that I think everyone can enjoy, even if they're not fans of animation, or Japanese animation in particular. Hideyuki Kikuchi is an amazing writer, and this adaptation of his 1990 novel really shows why so many people clamoured ot have his works translated into English. Both the Japanese and American voice acting casts are teriffic, and if anything, I wish the film was longer than it was.
Is It Worth Keeping? Yes
Rating: 8.5/10