Deprecated
: preg_replace(): The /e modifier is deprecated, use preg_replace_callback instead in
/nfs/c06/h04/mnt/97824/domains/alexanderlucard.com/html/wordpress/wp-includes/functions-formatting.php
on line
83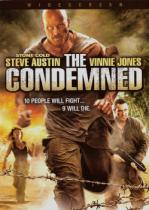 I never really wanted to see The Condemned. I'm not a fan of Stone Cold Steve Austin. He's a pretty shitty human being. I'm not a fan of the idea of an adult Battle Royale meets the internet either. However, it was free and it co-starred Vinnie Jones, so I decided to give it a try. After all, how bloody awful could it be?
Well, it wasn't good; that's for sure. The script had more holes than Swiss Cheese, the death scenes were all pretty lame. The ending was anti-climatic. The acting was decent, but none of the actors had much to work with, and the movie had no real value whatsoever. The only redeeming point was Vinnie Jones as a dickweed killer. He was his usual hilariously brillant self here. It's a shame he's not in better movies.
The plot is a very unrealistic one. Rich Tv producer buys 10 people off death row from various prisons around the world. Now they will be dropped off on an island in Oceania where they will be forced to fight to death until only one survives. The survivor will be allowed to go free, and with a big sack of money to boot. Each prisoner is also tagged with a plastic explosive device on their leg. if tampered with, kablooie. Sadly a lot of people die in this way rather than in interesting or creative deaths. Of course Stone Cold is the one guy on the island who isn't a psychopathic evil killer. He's a good guy special forces black ops agent left to rot in an Hondurus prison after the dismantling of a drug cartel went wrong. He doesn't want to kill or fight any of the other contestants. He's a good guy through and through. Uh oih? Did you turn out to be extra bad? Well now he has to kill you. Oy.
I swear to god, the WWE needs to stop making films. The most hilarious part was how they filmed to avoid Austin's ever growing beer belly. Seriously, who ever thought this man could be an actor or an action hero? Hell, I'll never get how he became a popular wrestler in the first place.
Is It Worth Keeping? No.
Rating: 4/10