Deprecated
: preg_replace(): The /e modifier is deprecated, use preg_replace_callback instead in
/nfs/c06/h06/mnt/97824/domains/alexanderlucard.com/html/wordpress/wp-includes/functions-formatting.php
on line
83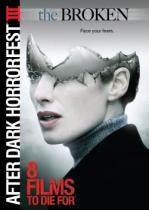 A few days ago I mentioned how I couldn't think of a single quality good horror film from Oceania. Only slightly less rare is a quality British made horror film. Sure there is 28 Days Later and Captain Kronus: Vampire Hunter, but really, what else is there?
The Broken stars Lena Heady aka Sarah Conner from the new Terminator TV series. Alas, I haven't seen this show, but fans of it should just stick to watching her adventures against Skynet, because this was pretty damn boring.
Lena plays a British Radiologist who starts to see a duplicate of herself after a family dinner in which a large mirror shatters. Following her doppleganger, she ends up getting into a severe car accident and suffers a bit of memory loss. Although her own doppleganger appears to be gone, she now suspects that members of her family and her lover have been overtaken byt he dopplegangers themselves. Who is real, and who is an evil twin?
The problem with this film wasn't the acting, which was decent for a made for DVD horror schlock. No the problem was the horrible special effects and the fact that the plot was trite and paint by numbers. You know exactly what is going to happen 15 minutes into the film and at no point do you think otherwise. There is no attempt at spicing up the plot of covering up the eventualities. It's just 60 more minutes of the actors going through the motions until the inevitable. Really boring and sad. This could have easily been a Tales From the Darkside 30 minute bit rather than a 93 minute long waste of celluloid. As such the vast majority of this film is just padding and VERY BORING padding to boot. If you haven't figured out the eventual plot by the end of reading this review even though I haven't given it away directly, then I'm a bit saddened. Just avoid the film and remember that anyone within eyeshot of this review is a better writer than whoever wrote The Broken and its proof that British Horror producers will make just about anything into a film.
Is it Worth Keeping? No.
Rating 3/10