Deprecated
: preg_replace(): The /e modifier is deprecated, use preg_replace_callback instead in
/nfs/c06/h06/mnt/97824/domains/alexanderlucard.com/html/wordpress/wp-includes/functions-formatting.php
on line
83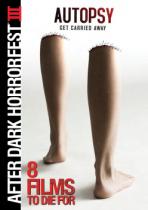 Hey Kids! Who wants to watch a movie about a bunch of drunken teenagers at Mardis Gras getting slowly picked off one by one by the T-1000 where he's not a super liquid metal cyborg from the future but is instead a crazy doctor who has been harvesting organs to keep his wife alive?
Yeah, I didn't think too many people were going to get excited about that premise. But for those of you who said yes, here's Autopsy!
Wow, was this an unlikeable movie. Save for Robert Patrick, everyone else in the movie couldn't act to save their lives. The plot is exceptionally stupid. A bunch of kids get into a car accident drinking and driving and it turns out they hit an escapee from the hopsital. An ambulance arrives to take the escapee back to the hospital and the group of college kids are forced to go with to make sure they aren't injured.
Well, only one of them is injured at the start, with a two foot shard of glass wedged in his ribs that he somehow didn't feel until he pulled it out, nor did it break between the accident and the walking around all over with it inside him. However, by the end of the film, all but one of the characters is dead, which is great since you're actually rooting for the crazy doctor and his hospital which is manned by orderlies who are really murderous prison convicts. Whoops.
As you might expect it's drunken and drug-addled teens vs evil hospital employees. Guess who wins? Not you, the viewer, that's for sure.
I generally enjoy how Robert Patrick has taken his roles and the T-1000 and Fox Mulder's replacement and rather flushed his carrer down the toilet so perfectly. He'll do anything from this piece of crap to fighting John Cena in The Marine (A film I thankfully haven't seen.) This is one of his worst films though, and it's one we should all pretend doesn't exists.
Is It Worth Keeping? No.
Rating: 3/10