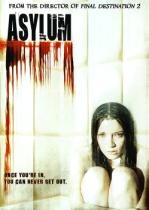 I'd been interested in watching this for a while now, and at times, i had even been tempted to buy it. I held off though, and eventually I picked this up from Swapadvd.com. I am so thankful I didn't pay money for this.
Asylum is a generic horror film following the paint by numbers plot plaguing thousands of bad horror films from the 1980's. Considering this is from 2007, this is all the worse that Asylum went this route.
This film is about an insane asylum that has been converted into…A COLLEGE DORM! WHOO PARTY! Of course, the asylum was run by a crazy doctor who used brutal and uncoventional tools to lobotomize and torture his patients, many of which weren't even insane - they were just mixed up depressed teenagers. Of course, out of the six main characters in this film, each one has a major traumatic ewvent from their past that has caused severe emotional scarring thast they have never been able to get over ranging from watching relatives kill themselves to a mom who force fed her son so he would be a chubbie boy. The crazy ghost of the doctor is able to home in on these memories and make them replay one last time before killing them. Of course the main character and her love interest are the only ones still stand at the end of the movie.
What of the stupidest things about the film was that they repeatedly made it clear that the ghost of Dr. Burke could not leave his former asylum and that the kids had to escape through a sewage tunnel to survive. They do this…and then the ghost follows them out of the asylum and in a chase scene for a few minutes before catching them in the woods. What the hell was the point of all that exposition about him being trapped in the old Aslyum and only able to enter certain places while being barred from others. When a script doesn't even have continuity within itself, you know it's bad.
The acting was decent for what it was and the plot is a decent idea, although the haunted insane asylum has been done multiple times and in far superior ways, but I didn't so much hate this movie as found myself bored with it and the constantly reuse of b-movie cliches. I can see why this went straight to DVD.
There's nothing really worth seeing in Asylum and much of the movie is just plain stupid, but the acting was passable and the sets were…okay. That's about as kind as I can be to this.
Is It Worth Keeping? No.
Rating: 3/10