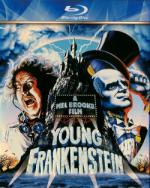 This is easily my favorite Mel Brooks movie, but I was a bit concerned with buying this on blu-ray. After all, it's a black and white film. How well could it look? In the end though, the special features made me get this. Mainly because this edition finally brought back the "Pop-Up Video" trivia track that had only been previously offered on TV about a decade ago. There's also 30 minutes of deleted scenes, documentaries, outtakes, and more. One of the reasons I prefer HD DVD to Blu is because the HD DVD's really packed in the extras while Blu actually had the same amount or less (Hellboy) than the normal DVD variant.
What can one really say about this film? It's considered one of the greatest comedies of all time and damn near everyone in the English speaking world has seen it. I'll admit I like it, but I don't really think it (or any Mel Brooks film) deserves the hype it gets. it's fun, but several of the jokes haven't aged well and compared to modern comedies, Young Frankenstein now seems geared for a younger, less sophisticated audience like pre-teens who will laugh at the penis jokes and slapstick. It's still en enjoyable film, but it's definitely lost something over the past 30 years.
But hey, it's part of the Caine-Hackman theory. Can't go wrong with that.
The transfer to Blu is actually impressive for a Black and White film, but obviously it's not as large a jump from standard definition to high definition. As well, the film is noticeably grainy and actually has some flickers in it which obviously aren't meant to be there. I can live with this in YF because it is meant to look and feel like a 1930's Universal Horror film and these little accidental touches actually improve that feeling, so I'll roll with it.
For those that haven't seen the film, it's Gene Wilder and Marty Feldman running around as Frederick Frah-ken-steen and Eye-gore in an attempt to re-create his grandafther's legacy. There's an amazing cast here that also includes Terri Garr and Cloris Leachman, the latter of who plays the amazing Frau Blucher (NEIGH!). It's hard to believe that Ms. Leachman was once Ms. Illinois and a Miss America runner-up after seeing her in this role. Of course there's also Madeline Kahn as well. All three women is this film were some of the best actresses of there generation and thankfully Kahn and Leachman both recieved Golden Globe nominations for their performances in this film.
Again, it hasn't aged well but it IS a classic and its still fun to watch.
Is It Worth Keeping? Yes.
Rating: 6.5/10