Friday, October 23rd, 2009
Deprecated
: preg_replace(): The /e modifier is deprecated, use preg_replace_callback instead in
/nfs/c06/h06/mnt/97824/domains/alexanderlucard.com/html/wordpress/wp-includes/functions-formatting.php
on line
83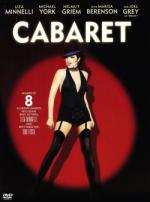 You know, I tend to enjoy the occasional musical. I've always liked the main theme from Cabaret, so I decided to pick this up off of Swapadvd.com, especially as it had won so many Oscars. I mean, I've liked most other Oscar winning Musicals like Chicago, so let's give this a chance.
Uh…no. This was actually freakin' awful. How the HELL did Liza Minelli win an Oscar for best actress in this thing? Her performance is god awful, she's completely wooden throughout the film and has no actual emotion or personality. It's like she was heavily sedated through the entire production. Oh wait…
The rest of the acting is as bad, if not worse, which was really disappointing. The entire cast phones it in at best, or actually stumbles through lines. There is no acting here. It's more like a dress rehersal for a high school play.
The music is great. I can't deny that, but notice I said music and not singing. I can't tell you how much better this would have been with a different cast. I know more than once I sat there with my mouth open going, "How did such a bad movie do so well commercially and critically?"
Oh, the plot's about almost but not quite pre-Nazi Germany and Jews and people whoring around. And angst. We can't forget the angst.
Holy crap, was this awful. I went it really hopefully and expecting a pretty good movie and I came out thinking I might have seen the big budget hollywood musical ever. How did this ever succeed.
Wait no. I think Madonna's Evita might be worse.
Is it Worth Keeping? No
Rating 3/10