Tuesday, January 27th, 2009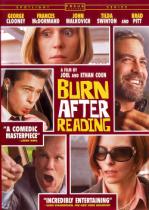 Burn After Reading was one of my favorite films from 2008 and easily my favorite Coen Brothers movie. The movie takes a bit to get going, but once it does, it just become a completely batshit insane dark comedy about the insanity living here in the District of Columbia. The movie actually makes you go, "Holy shit!" several times with bits you just didn't see coming, mainly what happens when George Clooney's character meets Brad Pitt's and the Home Depot project Clooney is building in his basement.
Burn After Reading features an amazing cast: Brad Pitt, George Clooney, John Malkovich, Sledge Hammer, J. Jonah Jameson and more. I do have to admit this is easily my favorite Brad Pitt role of all time just because the character is so stupid, it's hilarious.
Here's the plot in a nutshell: Osborn Cox (Malkovich) is a wreck of a man who was just fired from the CIA for his drinking problem. His wife is planning to leave him (and his having an affair with George Clooney's character). Cox's wife is told by her divorce lawyer to get all of his financials from his computer so they can see how much he's really worth. Along with the financials, his wife accidentally downloads Cox's memoirs that he has been writing. Of course, this disc is lost by the divorce lawyer's secretary who then leaves it at her gym…where it is found by two clueless personal trainers who decide to blackmail Cox since they have, "His Sensitive Shit." From there everything goes to hell and it's pretty much a laugh riot - especially the ending. God bless America.
A very fun movie and it's nice to see a comedy from the Coens after how fucking dark No Country For Old Men was. Yeesh.
Is It Worth Keeping? Yes.
Rating: 7.5/10