Wednesday, December 19th, 2007
Deprecated
: preg_replace(): The /e modifier is deprecated, use preg_replace_callback instead in
/nfs/c06/h06/mnt/97824/domains/alexanderlucard.com/html/wordpress/wp-includes/functions-formatting.php
on line
83
Review: NeoGeo Battle Coliseum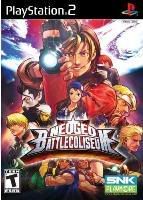 Neo Geo Battle Coliseum
Publisher: SNK Playmore
Developer: SNK Playmore
Genre: Fighter
Release Date 12/17/2007
SNK Playmore's track record with its fighting games has been less than stellar for a while. After KoF 2002 and 2003, everything seems to have fallen apart. Games like KOF XI, Maximum Impact II, and NeoWave were mediocre at best. Compilations like Art of Fighting Anthology fared little better, showing that even some of the classics haven't aged well. KoF XI damn near made me throw away my SNK fanboy membership card. It was Advance Guardian Heroes all over again.
In the back of my mind though, I knew NeoGeo Battle Coliseum was coming. Unlike the crapfest that was Capcom Fighting Evolution, I had heard excellent things about the Atomisware version of this game. That is was a gift to SNK fans the same way SegaGaga was the last thank you from the REAL Sega. It was supposed to be a lot of fun, and left out most of the mistakes Playmore had made since reviving the SNK name.
Then came little tiny doubts creeping into my mind. NGBC was only being released on the PS2, generally a bad sign for a SNK game. The PS2 is generally regarded as the worst system for porting fighting games to. The Dual Shock is a hideous piece of crap for the genre. The Xbox, the Dreamcast, and hell, even the Gamecube was able to handle controls response time and gameplay better than the PS2. It may be the supreme winner of the last console war, but in terms of quality fighter game play, I'd take the PSX over the PS2 anyday.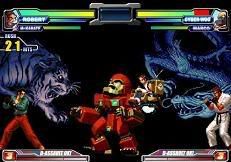 Then came delay after delay after delay. I was expecting this game in late summer. It has been out in arcade form for 2 years. Why the delays in what should be a simple port? The roster too, gave me pause. A lot of the characters were obscure or niche, even to the most diehard of SNK fans. Finally, there was the knowledge that several characters in NGBC like Geese Howard, Mr. Big, Mai, Kyo and others were ripped from NGBC and put into the KOF XI PS2 version. And consider how awful that game played, I was definitely expecting the worst from this game.
So is NGBC the final nail in the coffin for my SNK love the same way Shining Force Neo ruined that classic series for me, or is NeoGeo Battle Coliseum The first fighting game release on the PS2 that SNK has gotten right in 26 months?